In today's world and even before the pandemic, a major part of the business was done on the web. In fact, it is most likely the first place people look for information about a service or product they need. The online presence of a business is a major game-changer to a successful or failing business, and because of that, it is of the utmost importance to have a responsive, visually appealing, content-rich, easily maintainable, easily navigated website. At Smith Consulting & Design, LLC we are a website builder that focuses website builds on all these elements, that bring more visitors, spark more interest, and create more clicks and ultimately leading to the conversions needed. We are a Website Builder but The Goal isn't to build a Website; The Goal is to Help you Build your Business.
Where should you begin your business website build?
In every journey, there has to be a starting point, and building a website is no different. If you provide a service, have products that people can use, or maybe you just want to showcase your talents for the world to see, your journey has already begun. To open up this journey to the world by building a website, does not have to be that hard of a concept, but it can be somewhat of a challenge for people not trained to do it the right way. There are always choices to be made and we try our best to lay these choices out so they are very easy to understand for our clients.
The first choice in this journey is to establish your business name. In many cases the name should be an exact match to the name on your business license, this will help with Google my Business verification later in the process.
Research an SEO-friendly domain for your business or personal webpage. Please be aware that all domains may not be available, if you have a few names in mind please reach out to us today, so we can verify your domain is available. Things to keep in mind:

Always strive to include the name of your company or brand in your domain name.
Exact match domain names that are too long aren't as successful as they used to be.
Although a keyword-rich domain is not an SEO strategy in and of itself, it can be advantageous as part of a larger, integrated SEO plan.
Consider including one or two more keywords in your target list.
Domain names should really be brief, interesting, and creative.

Secure website hosting that will house all your files. Files for a website may consist of HTML, PHP, Javascript, CSS, and many other file types. You must rent out space so these files can have a place they call home. 3 Important factors to consider when deciding on where you want to host your site:

Server Reliability
Uptime Scores
Security

Finally, at this point of the journey, we come to the content. It is very important to be sure to produce high-quality content on your pages, especially your homepage. Your website page content will draw more users and entice webmasters to connect to your site if it provides valuable information. Write pages that specifically and correctly explain your topics when producing a helpful, information-rich site. Consider the keyword phrases that people will type into Google Search and include them on your page. A few things to consider when preparing your content:

Does each page have enough content?

Try to aim for about 700 words per page. An experienced web developer will layout each page using the proper hierarchy for on-page SEO.

Images, Logos, and Videos are all content that is very important in the digital marketing world. Make sure the images you intend to use on the website are legally yours to use, first. Also, be sure that your web developer will optimize this content to help speed up your website.
At this point, I do hope you have a better idea of what steps need to be taken to put your website on the internet. Also, as I mentioned before these steps to a person that is not in the world of web development, may be overwhelmed. That is where Smith Consulting & Design, LLC can make your life much easier. We will take care of all these steps for you because that is what we do, we help build your business for the digital world to see you. But we do not know what your business is until you tell us by filling out our proposal form. The form will help gather information about how you vision your website, so it can better help with the estimate. If you feel more confident in writing your vision on a Microsoft Word document, please email it to us at info@smithcd.com.
Please contact us today and let us get you online, your clients are depending on it!
For us to start any project the following will need to be addressed:
An agreement is electronically signed on what is to be developed.
50% of the amount that was quoted to start the work.
Developing the website will be charged at a $75.00 per hour rate.
A minimum of 8 hours is needed to set up a WordPress website.
How can your Website work for you?
Is your business website, getting the results you want?
Do you know how much traffic the website is producing?
Do you know what keywords users are searching for on Google?
Using a variety of tools, including Google Analytics, and Google Search Console, we can help you get the answer to your questions and more. Setting up your website to collect this data and to use this information to put together a solid plan about how we can improve your website's overall results, and get better and more website traffic. When getting your website to work for you, we must focus on 5 roles: On-page SEO (Content), Off-page SEO (Links), Technical SEO (optimized, HTTPS, etc.), Local SEO (Google my Business, Google Maps), YouTube SEO (Video Content). This will just be the start, so please when you want your website to work for you, we must be patient and be sure it's done correctly and within the guidelines of each search engine.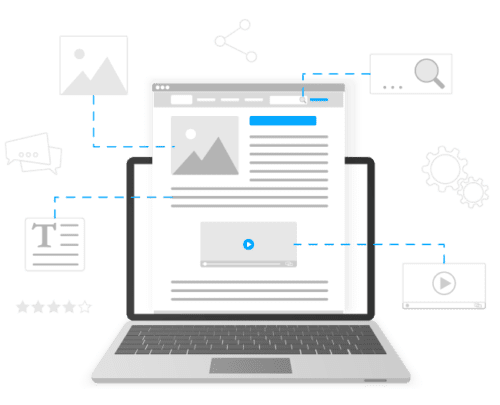 Is a CMS or HTML website right for your business?
In most cases, the average person does not realize that there are so many options when deciding on a website design. If you are a person that just needs a 1-page website and has a good understanding of HTML and CSS, then maybe having an HTML Page only, is the right choice for you. Just know that Google likes to see new content that is high quality, relevant information being put out on websites for people to find.
We would highly recommend that every site be created so that it is easily updated, easy to change out information that may change over time, and be able to add new relevant content without changing the layout or look of the existing website through posts or a blog. Having a CMS is an easy way to keep your website's content fresh and new for your users to see. Is your current website not using a CMS (Content Management System), or it is using a CMS that is no longer working for you? A CMS website must be updated regularly and maybe your website is needing such updates. We will sit down over the phone, on FaceTime if needed, or even meet up and chat about a plan to get your website migrated over to a very well-known CMS called WordPress.
A content management system (CMS) is a computer application that supports the creation and modification of digital content. It typically supports multiple users in a user-friendly environment. CMS features will vary, based on the functionality needed for your website. Most CMSs include Web-based publishing, format management, history editing, version control, indexing, search, and retrieval. By their nature, content management systems support the separation of content and presentation. Based on market share statistics, the most popular content management system is WordPress, used by over 28% of all websites on the internet, and by 59% of all websites using a known content management system. Other popular content management systems include Joomla and Drupal. WordPress websites will use plugins to help with the functionality. These plugins will have free versions that will offer a minimum functionality and then they will offer a pro version that will give you the opportunity to use 100% of the plugin's ability. A WordPress website will also give any user the ability to log into a user-friendly dashboard, take control and change certain information that is set specifically for that user. The administrator will set these criteria for each user.